Post by smr on Aug 15, 2016 10:59:11 GMT -5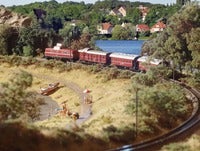 I have been asked several times about how to build small Z-scale layouts without compromising to much on optical aspects while having a lot of fun operating our small trains.
I own a nice example of one of these perfect blends, I believe, but have a look.

(foto courtesy of Holger Spaeing, Trainini)
This layout has been initially built by Karl Sinn for the German company Noch, which is Rokuhan's cooperation partner in Europe.
No surprise most materials used are stemming from Noch and the tracks are all Rokuhan.
Look here:
www.spur-z-atelier.de/referenzen/messeanlage-fa-noch/
In the year 2012 when this layout was constructed, the Rokuhan track system was quite unknown and a lot of Zetties looked at it with great scepticism. Today I can look back on nearly 5 years of permanent use with various rolling stock.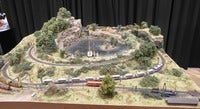 (at exhibition, Bauma, Switzerland 2014)
Electronically, nothing fancy has been added. There is a switch which allows me to drive the whole system either analogue or digital. The throttle is provided by Joerger and allows for snail speed.
The track layout is a master piece by Rolf Knipper. It allows point-to-point traffic as well as permanent cycling in a round course (for e.g. breaking in your locos). Under the hills further storage tracks are hidden, in order to change trains and to simulate an external world.
Here is the layout in its final form as a helicopter shot;
Please note the use of the landscape as scene dividers which allows the observer to look at the layout from 4 different angles, and to discover new themes angle by angle.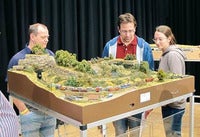 1) The small depot named "Sinnweiler":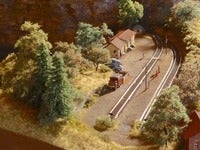 2) The active part of the stone Quarry:
3) The heart of the layout, the Yard:
4) The tiny, little loco shop:
and 5) a lot of Rokuhan track
If there is interest in more, I am happy to provide more insights (and of course pictures) how the individual themes have been created.
Enjoy!
Best,
Sven
PS: I recommend the lake view

- most of the pictures by Jens Wimmel, Zettzeit -
www.zettzeit.ch
www.zettzeit.ch/Challenger.html
Jens, btw, offers AZL articles in his shop and is one of the few who offers a repair service as well for purchases at his shop

.
zettzeit.ch/shop/index.php?manufacturers_id=11